PET CPR AND FIRST AID CERTIFICATION AND TRAINING
Affiliation Program for Human CPR, BLS, ALS Training Centers
Would you like to offer nationally recognized and approved pet CPR and first aid training and certification?
Introducing Pet Emergency Education's affiliation program for American Heart Association, ASHI and Red Cross training centers.
This program is only available to human CPR training centers with official affiliations with one of the following organizations; AHA, ASHI, ECSI or the Red Cross
Pet Emergency Education is an international leader in animal first aid and emergency training. As an approved educational provider with the American Association of Veterinary State Boards, we are very pleased to announce our new Pet CPR and First Aid affiliation program for human CPR training centers. Our curriculum is designed and endorsed by licensed veterinarians and veterinary technicians. Teach our nationally recognized pet CPR and first aid certification program to your clients.
The special affiliate rate of $49.95 per trainee (Reg. price $74.95) includes the following:
One nationally recognized certification to award to the trainee for successfully passing your class
A full color frameable certificate
An eBook copy of our full color reference guide (printed books are available for a discounted rate to training centers of $10 per book. Reg price $24.95)
2 year subscription to our online emergency resource center
Training for your instructors is FREE!
10 hour virtual training to become a certified pet CPR and first aid instructor is offered as an on demand, self paced program. We offer this program free to CPR training schools. Schools are, however, required to obtain the necessary teaching canine and feline mannequins which they can do on their own or purchase them at a discounted rate through our company.
Benefits of working with our company:
Link on our website to refer potential clients to your training center for classes
Advertising and Marketing Assistance promote classes
Our strong presence on social media will help provide training centers promotion of their classes
Full service office staff available for training centers need
Classes offered by your training center will be approved and recognized by the professional organizations our company has approvals with. This allows you to offer continuing education credits to a variety of professionals.
No membership fees ever
We provide certificates electronically directly to each of your trainees once they complete the training.
All class and program credentials, approvals and national accreditations provided by our company
Training centers benefit from having their classes nationally recognized by some of the most reputable veterinary and animal professional organizations in the country. That includes but not limited to;

AAVSB (vet techs only), CCPDT, PSI, NADOI, IACP, PAACCC, Path'l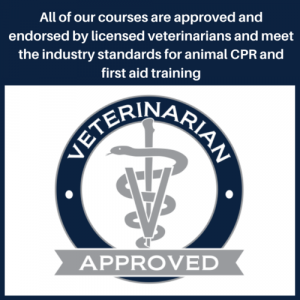 The certificate you award to your trainee will also qualify to award approved Continuing education credits to vet techs, CCPDT dog trainers, members of Pet Sitters International, International Association of Animal Behavior Consultants, National Association of Dog Obedience Instructors, International Association for Canine Professionals and Professional Animal Care Certification Counsel. 
Supplies and Equipment
Training centers must acquire their own supplies in order to teach the class. It is impossible to teach pet CPR without the proper mannequins and models.
The list of required items is below:
2 Large Stuffed Dog Models ie. Melissa and Doug Husky or Golden Retrievers) or professional CasPeR CPR Canine Mannequin
Bulldog for barrel chested demonstrations
Cat model, stands upright, lays down (color and style may vary)
AV display equipment for displaying the PowerPoint during classes ie. LED portable monitor or projector
Laptop, tablet or other device to connect to the AV equipment to display the PowerPoint presentation (provided by the company)
 

The following will be provided free of charge to the training center once they have completed the instructor certification training:

Copy of Class Teaching PowerPoint Presentation
Unlimited access to the instructor Resource Portal
Unlimited subscription to the Pet Emergency Education Customer Online Resource Center
Unlimited access to additional training, and quarterly instructor development webinars

Optional items that are strongly suggested (can be purchased in our online store) :

Personalized black Logoware T-shirt with company logo and your name
3×2 Customized Branded Banner for display during classes and at events
Pet First Aid Kit
Stethoscope

Our company offers a complete instructor supply kit for $450 + Free shipping. For details about our kit

Click Here
Sign up to become an official pet CPR and first aid training center by filling out the form below. For questions call 844-PET-CPR9 or email info.petemergency@gmail.com.