Description
Program Description: The Canine Wilderness Emergency First Aid trains individuals who work with dogs and engage in outdoor activities where access to emergency veterinary care may be limited, and/or dogs are more susceptible to becoming injured due to adventurous activities.  Skills covered in this course include how to prevent medical emergencies from becoming worse by knowing what to do when emergencies happen, how to attend to an injured dog in remote areas and provide emergency first aid, and how to condition a dog for strenuous activity with the intention of preventing an injury.  This is a comprehensive detailed program that focuses on wilderness first aid and the management of medical emergencies that can happen to your dog in remote areas, trail hiking, camping, water activities, hunting and more.
Registration Includes: An official certificate, a 2 year membership to our online Animal Emergency Resource Center, your choice of the 90 page full color class manual either as an Ebook (View Only/Cannot be Printed) -the wilderness manual does not come in a printed version however you may purchase a printed copy of our Canine and Feline CPR and First Aid Reference Guide which contains similar material (additional $24.95). Businesses, organizations and groups may request a professional, frame-able certificate and window decal, to hang in their place of business to promote that their staff/members are certified. Certificates are available for downloading and printing within 72 hours after the class is held in your membership account. Our office must confirm with the instructor that you did attend and pass all of the requirements for certification.
_______________________________________________________________________________________________________________________________________
The skills and topics covered in this class include:
Safety techniques when working with injured dogs
How to perform emergency triage and assess if an animal is experiencing a life-threatening medical emergency
How to restrain and properly transport sick and/or injured dogs
How to provide emergency first aid to dogs en-route to veterinary care
Obtain vital signs (temperature, pulse, respiration, CRT) and determine normal vs abnormal readings
Learn about the importance of the wilderness canine first aid kit and emergency supplies needed when engaging in outdoor activities with a dog.
How to use the materials in it during an emergency in remote areas, on trails, in the water and more.
How to manage and provide first aid for many common medical emergencies such as severe wounds, lacerations, fractures, heat stroke, snake bites, poisoning, burns, choking among many other conditions.
An overview of how to perform the most current industry standard method of Cardiopulmonary Resuscitation on dogs will be presented however this course does not certify the particpant in pet CPR. Please attend our Canine and Feline CPR and First Aid class for complete training and certification in pet CPR.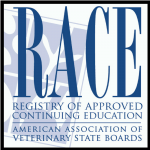 This program 20-912136 is approved by the AAVSB RACE to offer a total of 0.00 CE Credits (3.00 max) being available to any one veterinarian: and/or 3.00 Veterinary Technician CE Credits (3.00 max). This RACE approval is for the subject matter categorie(s) of: Category One: Scientific using the delivery method(s) of: Seminar/Live Instruction. This approval is valid in jurisdictions which recognize AAVSB RACE; however, participants are responsible for ascertaining each board's CE requirements"