High School and College Student Discount Program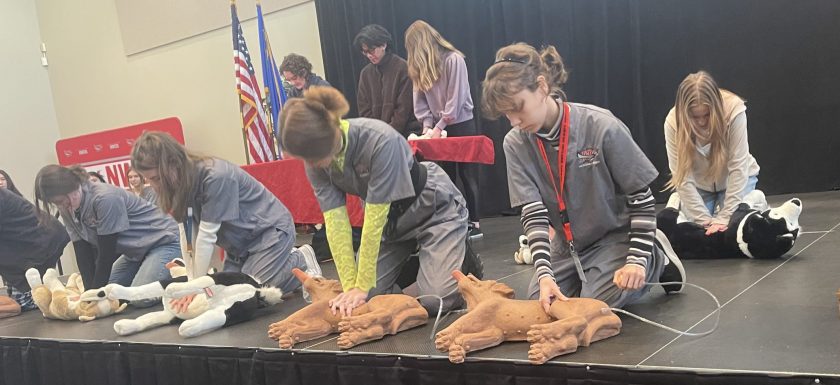 Educational institutions are eligible to train and certify their students through our internationally recognized pet CPR and animal emergency certification programs at an exceptional value.
This will provide students with numerous benefits as they progress through their education and future careers.
Provides students with the necessary knowledge of how to respond to medical emergencies that animals may encounter, as endorsed and approved by the veterinary industry. 
We feel that offering our internationally recognized Canine and Feline CPR and First Aid Certification course at an exceptional value to your students will provide them with tremendous benefits as they progress through their education. Not only will our training provide your students with exceptional knowledge about managing animal emergencies, it can be used on college applications, resumes, volunteer opportunities and more.
6 Industry Recognized Certification Programs to choose from: 
Canine and Feline CPR and First Aid
Canine and Feline CPR and Advanced Life Support
Equine Emergency First Aid
Livestock Emergency First Aid (coming soon)
Canine Wilderness Emergency First Aid
Reptile, Avian and Small Mammal First Aid
Teachers must take our free online training program and become instructors with our company in order to teach to their students as part of their curriculum.
Pet Emergency Education is a leader in animal first aid and emergency training.  As an approved educational provider with the American Association of Veterinary State Boards, we are very pleased to announce our new Deluxe Pet CPR and First Aid Training and Certification Program for Students.
The special student rate of $49.95 (a $75 value) includes the following:
One student registration to any of the certification programs listed above either taught in the classroom or on demand (see descriptions of each below)
An eBook copy of our full color reference guide (printed copies available for purchase at the discounted rate of $12.50, reg $24.95)
2 year subscription to our online emergency resource center
An official, frame-able certificate
On-Demand Virtual Training
 
Educational institutions may choose to have their students complete the training virtually through one of our on-demand courses at our Virtual Academy. Academy courses are asynchronous and perfect for schools and students that participate in hybrid schooling, homeschooling, or for institutions that prefer virtual training over in-classroom training.
In Classroom Training
 
Faculty may teach our certification programs to their students live in the classroom as part of the school's curriculum. Pet Emergency Education offers complimentary animal first aid instructor training to faculty of schools that sign up to offer our programs to their students. Faculty become certified instructors with our company.
At WSU Tech's Veterinary Nursing Program, we utilize the Pet Emergency Education Pet CPR materials to supplement our Emergency and Critical Care Nursing course. The students really enjoy the hands on simulation and benefit tremendously from the ability to perform pet CPR on all sizes and shapes of dogs and cats. The first aid material also outlines very specific techniques that are helpful both inside of a clinical setting and out in the everyday world. Our favorite part of this course is when all of the students earn their certificates and you can see the pride in their accomplishment.
In addition to the above program, we are also offering 3 other options below which include the training program PLUS some of our high quality veterinary approved pet first aid supplies:
*Training program with a 94 page full color printed manual for a total of $64.95 (a $100 value)
 
*Training program with the printed manual PLUS our new 60+  piece Deluxe Pet First Aid Kit, which was designed by veterinary professionals and is confidently endorsed by veterinarians, for a total of $104.95 + shipping (a $160 value) (Equine Triage First Aid Kits also available but add $20 to this cost)
 
*Training program with only the Deluxe Pet First Aid Kit for $89.95 (a $135 value)

The proper use of many of the items contained in the kit are discussed during the course and we feel it's a perfect complement to the program; however, we are aware that it can be price prohibitive in these challenging times, so are offering both options.