Would You Like to Teach Pet CPR and First Aid?
Pet Emergency Education is proud to have only experienced animal, veterinary and emergency trained professionals teaching our Pet CPR, First Aid and Animal Emergency Classes
Anyone that is accepted into the instructor program must complete an asynchronous virtual (no live components) complimentary training and orientation program equivalent to 10 contact hours.
Opportunities for instructors who are affiliated with us:
1. Teach in-person pet CPR and first aid classes and be compensated for their instruction.
2. Participate in our online/virtual course referral program earning a commission on each referral. 
3. Become a retailer to sell our custom pet first aid kits.
Apply Below
We want to make sure every class participant feels that they have gained a high-quality educational experience from an emergency specialist.  Instructors must be experienced animal, veterinary professionals or be first responders with considerable emergency experience.
Supplies and Equipment
Instructors that teach our classes must purchase the necessary equipment and supplies in order to properly teach one of our classes. It is impossible to teach the skills without the proper mannequins and models. Instructor kits cost $450 and do not need to be purchased upfront.
Instructor Kits include:
2 Large Stuffed Dog Models (ie. Melissa and Doug Husky or Golden Retrievers) or professional CasPeR CPR Canine Mannequin
Bulldog for barrel-chested demonstrations
Cat model, stands upright, lays down (color and style may vary)
AV display equipment for displaying the PowerPoint during classes ie. LED portable monitor or projector
Personalized black Logoware T-shirt with company logo
3×2 Customized Branded Banner for display during classes and at events
Printed Copy of the Canine and Feline CPR and First Aid Manual
Equipment instructors must obtain on their own and are not provided by the company
A laptop, tablet or another device to be connected to the AV equipment to display the class training PowerPoint presentation 
As per IRS guidelines for independent contractors, "Independent contractors provide their own equipment, buy their own supplies and do their own industry training". Our company provides job-specific training to show an independent contractor the guidelines for submitting work.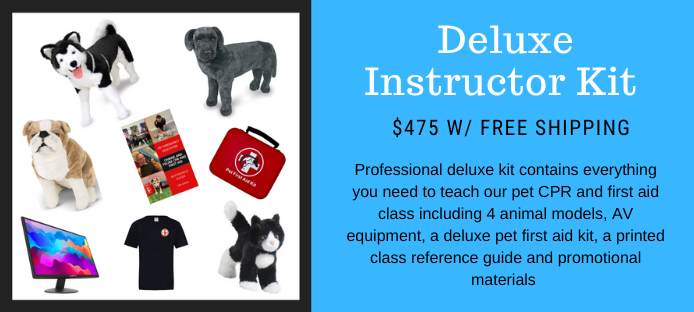 The following will be provided to contract instructors by our company:
Advertising and Marketing Assistance to find and promote classes in your local area
Strong presence on social media and promotion of the instructor's classes on social media
Full-service office staff available for instructors' needs
Professional website for hosting registration pages, and information and increasing credibility
No membership fees ever
We provide all books, cards and certificates directly to the instructor or class participants, relieving any additional expense to the instructor
Discounts and promotions offered by our company directly to class participants and hosts never affect the instructor's compensation
Eligibility to teach shelter/rescue fundraising  classes with no impact on instructor's compensation
All class and program credentials, approvals and national accreditations provided by our company
All continuing education approvals and credits will be awarded for instructors' classes at no cost to the instructor
Instructors benefit from having their classes nationally recognized by some of the most reputable veterinary and animal professional organizations in the country 
Instructor referral program for online courses
 Class Teaching PowerPoint Presentation
Copy of the Canine and Feline CPR and First Aid Manual (both as an EBook and Printed Book)
Unlimited access to the Instructor Resource Portal
Unlimited subscription to the Pet Emergency Education Customer Online Resource Center
Unlimited access to additional training
Contract Instructors are compensated $20 per person in the classes they teach. Classes average 8-15 people.
Apply to Become a Pet CPR and First Aid Instructor
Filling out this form does not guarantee you will become an instructor. Qualified individuals will receive an interview via phone or Zoom with our program manager. 
As an Instructor, you will be required to sign our Policy Understanding and Independent Contractor Contract Agreement.
Applicants are always welcome to email questions about the program to info@petemergencyeducation.com.