IN-PERSON CLASSES ARE NOW BEING OFFERED IN LIMITED AREAS
COVID-19 POLICY
Pet Emergency Education is dedicated to keeping its instructors, class participants and class hosts safe and healthy. All of our in-person training classes will follow local and state restrictions for group gatherings. Businesses and organizations hosting one of our classes reserves the right to require further restrictions when in their establishment. All class participants are asked to bring a stuffed animal with them to the class so that there is no sharing of equipment therefore limiting exposure to COVID. We appreciate your understanding.
If anyone has questions or concerns please contact our office at 844-PET-CPR9.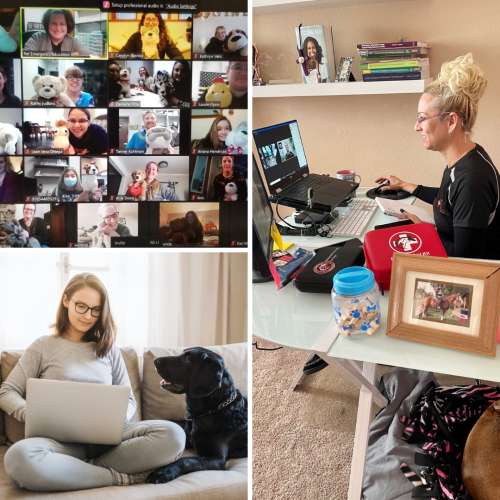 Attend a LIVE VIRTUAL TRAINING VIA ZOOM
Learn in a safe environment
Great alternative to in-person training if none is available in your area
Same amazing program and certification from the comfort of your home or office
Taught by one of our senior instructors
Q&A sessions
Hands-on workshop section with feedback from the instructor and more
Standard registration fee for each participant is $74.95*
All registrations come with:
An Official Frameable Certificate
2 year subscription to our online Animal Emergency Resource Center
Complimentary interactive reference guide as an e-book (printed manual available for an additional $24.95)
Businesses, organizations and groups may request a professional, customized lobby certificate and window decal to hang in their place of business to promote that their staff/members are certified
Veterinary and animal professionals will receive a continuing education certificate worth 3-3.5 CEU
*For detailed class descriptions click here*
Our certifications are recognized by local and national organizations, employers, animal welfare organizations, disaster response teams and more
Our classes are approved to provide 3 CEU to veterinary professionals (click here for our continuing education policy for veterinarians and veterinary technicians), 3.5 CEU to Certification Council for Professional Dog Trainers, 3 CEU to International Association of Animal Behavior Consultants, 3 CEU to the National Association of Dog Obedience Instructors, 3 CEU for International Association for Canine Professionals, 3 CEU for Professional Animal Care Certification Counsel and 3 CEU to members of Pet Sitters International!
We are proud to offer an extremely competitive registration fee for our classes. If you find a lower price for a comparable class we will match it! Click Here for details
*Registration fee is the same for in-person and both virtual forms of training
Click on the link below to view a list of upcoming classes by state. For virtual classes, click on the link below the state list.
Alternatives to In-Person Training
During this uncertain time, we invite you to take our internationally recognized certification courses virtually at either our online academy which offers on demand, asynchronous, self paced training or a live virtual training via Zoom
On Demand, Asynchronous Training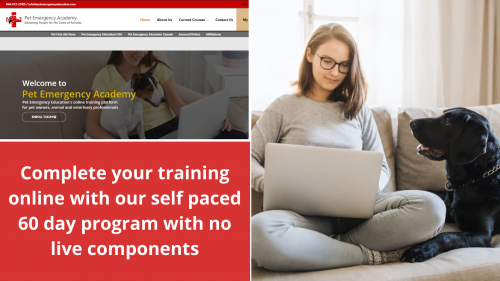 Our academy offers our renowned certification programs in a self paced, prerecorded format. The training consists of 3 modules with a multiple choice quiz at the end of each module and a comprehensive final exam.
Go to petemergencyacademy.com and use promocode EMERGENCY10 to receive $10 off the registration fee to any online course.
You can log in and out of the course as many times as you like but you must complete the course within 60 days from the date of purchase.
Become trained and certified online in the safety of your home or place of business.
Virtual classes are open to anyone no matter where you live. 
Virtual classes are 3 hours long and deliver the same renowned curriculum as our in-person classes. Class descriptions are on the registration pages and each class is taught by one of our senior instructors. Students will also participate in hands on instruction session during the class to learn CPR on dogs and cats. For questions on any of our classes please contact us at info.petemergency@gmail.com or 844-PET-CPR9.