COVID-19 Safety Precautions for In-Person Classes
We will be following all local and state social distancing and group gathering restrictions to keep everyone safe and provide a great educational experience. Hosts are asked to space out participants in the room and each participant is asked to bring a stuffed animal to the class to practice on so no one is sharing equipment. Some host locations will be requiring temperature checks at the door.
Masks will be required for everyone to wear in any of our classes. Class sizes will be limited to the group gathering limit designated by your state.
If anyone has questions or concerns please contact our office at 844-PET-CPR9.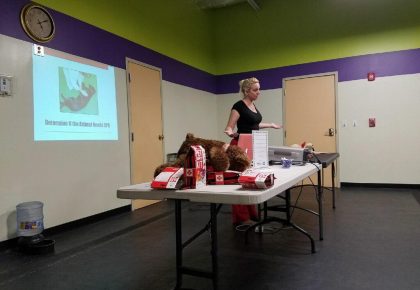 Standard registration fee for each participant is $69.95.  All registrations come with: 
An Official Frameable Certificate
2 year subscription to our online Animal Emergency Resource Center
Complimentary interactive reference guide as an e-book (printed manual available for an additional $24.95)
Businesses, organizations and groups may request a professional, customized lobby certificate and window decal to hang in their place of business to promote that their staff/members are certified
Veterinary and animal professionals will receive a continuing education certificate worth 3-3.5 CEU
*For detailed class descriptions click here*
Our certifications are recognized by local and national organizations, employers, animal welfare organizations, disaster response teams and more
Our classes are approved to provide 3 CEU to veterinary professionals (click here for our continuing education policy for veterinarians and veterinary technicians), 3.5 CEU to Certification Council for Professional Dog Trainers, 3 CEU to International Association of Animal Behavior Consultants, 3 CEU to the National Association of Dog Obedience Instructors, 3 CEU for International Association for Canine Professionals, 3 CEU for Professional Animal Care Certification Counsel and 3 CEU to members of Pet Sitters International!
We are proud to offer an extremely competitive registration fee for our classes.  If you find a lower price for a comparable class we will match it!  Click Here for details 
Unable to attend a live, in person training?
Take one of our certification programs online! Visit our online training academy