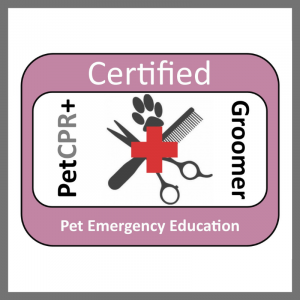 PetCPR+ Certification Course for Grooming Professionals
in cooperation with the Paragon School of Pet Grooming
Pet Emergency Education is proud to partner with the Paragon School of Pet Grooming, offering our internationally recognized Pet CPR and First Aid program.  Paragon students may take the certification course at a discounted rate of $55.95, (reg. $69.95) and receive $5.00 off a printed copy of the class reference guide should they choose to purchase one. 
(use promo code PARAGON at checkout to receive the discount on the course and PARAGONBOOK to receive the discount on the book)
For a complete course outline and description see *below*
Choose from our interactive, full Color, 88 page Reference Guide as an e-book (View Only)** or our e-book plus a printed copy of the Reference Guide (additional $24.95)
*Important* A link to access the course will be sent to you via email once you pay for your registration.  You will be taken to Blackboard Learn our learning management site where the class is hosted.  Once you click on the link  you will sign up for an account, login and begin your course . 
This course is asynchronous which means you may log in and out as much as you like and there are no "live" components.  Course takes approximately 3 hours to complete. Course must be completed within 30 days of the registration date. Upon completion of the course you will be able to access and print your cards and certificates immediately at the link that will open in the course listed under the final exam, once you achieve the passing grade of 85% or higher.
PetCPR+ Canine and Feline CPR and First Aid Certification Course for Grooming Professionals
Our program is based on the most current method of animal CPR which was developed by emergency veterinarians. This class is designed to teach the participant how to administer emergency CPR and first aid to an animal until veterinary care is ascertained.
This course is a customized version of our PetCPR+ Certification program and is designed to train animal groomers, salon staff and owners how to manage medical emergencies that can happen in the grooming environment.  There are a number of injuries that can occur in a grooming salon such as heatstroke, lacerations from shears/clippers, stress anxiety and more. It provides the participant an overview of what to do in an emergency situation at the salon prior to obtaining veterinary care. 
Learning Objectives:
Safety techniques when working with sick and/or injured animals
How to perform emergency triage and assess if an animal is experiencing a life threatening medical emergency
How to restrain and properly transport sick and/or injured animals
How to provide emergency first aid to dogs and cats en-route to veterinary care
How to take vital signs (temperature, pulse, respiration, CRT) and determine normal vs abnormal readings
Learn about the importance of the pet first aid kit and how to use the materials in it during an emergency
How to manage and provide first aid for many common medical emergencies in a grooming salon including, skin lacerations, razor burn, heatstroke and more.
How to perform the most current industry standard method of Cardiopulmonary Resuscitation on dogs and cats (Participants will receive a PetCPR+ Certification valid for 2 years)
Course participants will receive the following:
A copy of our 88+ page full color Canine and Feline CPR and First Aid Reference Guide E-book (printed books may be purchased).  E-Books can be accessed once you sign into the course.  Printed books will be mailed at time of registration and may not be received for 5-7 days.
2 year subscription to the Pet Emergency Education Online Resource Center
Upon successful completion and receiving a passing score on all assessments, participants will receive 2 CPR certification wallet cards and an official certificate emailed to them after completion of the course.
Copyright access to use the PetCPR+ logo to promote you are certified.
Course Outline:
This online training consists of video presentations, tutorials (asynchronous that can be viewed at the participants own pace. Participants may log in and out as much as they like but must complete the training within 30 days). Videos and tutorials are presented by Pet Emergency Education staff and our veterinary affiliates. There are 3 learning modules in the training and a quiz at the end of each module.  There is a comprehensive final exam at the end of the course.
Curriculum:
Module #1 Triage and transporting sick/injured animals
Module #2- Common Emergencies in Grooming Salon
Module #3- Cardiopulmonary Resuscitation (CPR) and Choking
You must pass all the course items with 100%. Participants are allowed to take tests multiple times.  Custom cards and certificates are available to print immediately after the course is complete.